Appearances in this countries:
SWEDEN
POLAND
LATHVIA
LITHUANIA
FINLAND
GERMANY
ITALY
DENMARK
ICELAND
ESTONIA

SOME Concerts and appearances:
BAYREUTH RICHARD WAGNER MUSEUM
MALMÖ KONSTHALL
MUSEUM OF SCIENCE STOCKHOLM
MUSEUM OF SCIENCE AND MARITIME MALMÖ
ATALANTE GOTHENBURG
STADSHALLEN LUND
NORDISHE KLANG GERMANY
EUROPEAN ART FESTIVAL ROME ITALY


COSMONOVA IMAX THEATRE STOCKHOLM
MUSEUM OF NATURAL HISTORY
SWEDISH TELEVISION "MUSIK SPEGELN"
SWEDISH RADIO "MITT I MUSIKEN"
SWEDISH RADIO "KLINGAN"
RADIO STOCKHOLM
RADION BLEKINGE
MARIN MUSEUM SWEDEN
TV GERMANY, DUNKERSKULTURHUS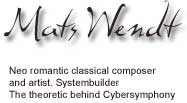 PRESS VOICES
DISCOGRAPHY
WORKS
THE CONTEMPORARY PERIOD 87 and back
THE INVENTIVE PERIOD 1987-1993
THE MONUMENTAL PEROID, CYBERSYMPHONIC PERIOD 1993-2008

Read more about the cybersymphonic art form and the cybersymphonic law here
Mats Wendt is registered at STIM and IFPI. All music, art and graphic is the intellectual property of Mats Wendt.

All rights reserved MATS WENDT © 1978-2008

Music by Mats Wendt
Available here

Mats Wendt's 16 hours epic over the complete norse mythology listen for
free here
Eddan at Historiska museet in Stockholm 2010.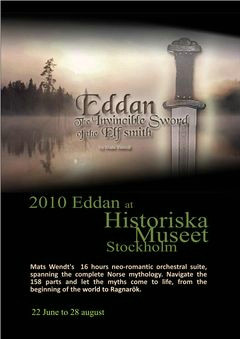 Eddan is displayed during summer at the museum of History in Stockholm in a interactive installation. Mats Wendt was interviewed in Swedens main Radio news show in P1 StudioEtt.
Eddan premiere opens in Reykjavik/Iceland 2009.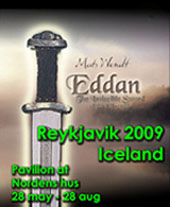 The 28 May to the 28 Aug, Eddan is displayed in an interactive installation residing in a special pavilion beside Nordens Hus in Reykjavik. It will be possible to view the work and experience the myths through emotions carried by the music. Eddan returning to the source.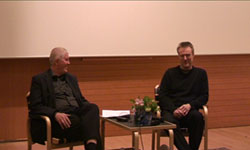 Director of Iceland music museum Bjarki Sveinbjörnsson talks with Mats Wendt (to the right) in a video recording at the premiere opening of Eddan in Reykjavik.
*********
Eddan premiere in the press 2009
Among other papers, Music and Vision the worlds first daily classical global news site had the event in the news.
US Today

The US Today picked up the premiere in the "News from the Web "section.

Swedish radio p1 and p2 sweden's classical music news radio show.



Even as a child the composer Mats Wendt was captivated by mythology.. READ MORE

Sydsvenskan

-Why island?
Iceland is close at hand. It was there Snorri wrote down Eddan. I contacted Nordic house in Reykjavik and now there is a special pavilion built to show my work Eddan. READ MORE

Blekinge läns tidning

On monday the composer Mats Wendt travel to Reykjavik, There he will premiere open the 16 hour work Eddan - the invincible sword of the elf-smith READ MORE

Mats Wendt

Sydöstran

Mats Wendt first performs the cyber Edda...
************
Eddan finished 2008

The 9 jan 2008 Eddan is finished after 9 years full time work. Eddan - the invincible sword of the elf-smith is 16 hours and 37 sec long. A monumental orchestral suite in 158 parts. This work is available online for free listening in a low quality net version 48kbps at www.eddan.net
Quick facts: Eddan was composed between 1999 and 2008 with preparation from 1993.The first attempt was in 1982 with Voluspa (the norns prophecy), a contemporary piece that failed to tap into the mythological world. Eddan uses themes to represent different beings, situations and reminiscence.
*****************
2002
Museum of science/Malmö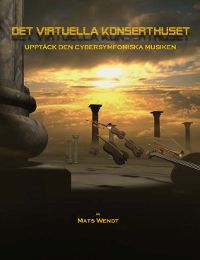 The concert hall, was a conceptual meta-work made by MW, that contained all MW's music from 1993.
It was shown for two years in the museum of science in Malmö in a amphitheatre containing the interactive installation.(See below). The finished parts from Eddan was also shown in this interactive installation.
*************
2001
The Concert hall at Teknikens och sjöfartens museum in Malmö Feb.
Displayed during the year. It is still possible to see it in 2002 at this museum.
The Concert hall continues at museum of science in Stockholm.(See below)
*************
2000


StadsHallen in Lund Sweden.
Eight parts from Eddan (The Elf-smith or Alvsmeden) was test performed 16 april 2000.

Interviews on Swedish radio in the programs Mitt i Musiken and Klingan.

Consert in Atalante / Gothenburg Sweden
Concert at Atalante Nov 3 2000. An hour from Eddan was shown.

Museum of Science in Stockholm.
Eddan at Museum of Science in Stockholm Sweden in M W's Virtual Concert hall. It was displayed from Nov 2000 to 23 April 2001.

Swedish television made an Interview with Mats Wendt that was broadcast the 12 nov 2000 tv2. 13nov tv2 and 14 nov Channel1. highlights from the Eddan could be heard.
*************
1999
The work on Eddan began after seven years of preparations.
1999 Mats Wendt's first performance of Euroupe a prophecy in a unique concert at Imax theatre Cosmonova in Stockholm.
Museum of natural history in Stockholm hosted the premier of EaP at the "in house" IMAX theatre Cosmonova as a special event. To the premier MW had made an CG ballet that was displayed on the big screen to accompany the music. This work is based on the poem by the English poet and universal genius William Blake.
(it was intentionally miss spelled for rights reasons, se ad.)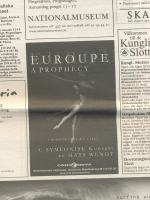 This ad for the event was published in Metro, aftonbladet, DN, Svenska dagbladet and Expressen.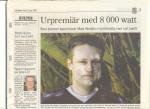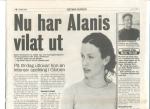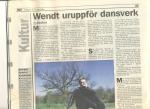 Some clippings.
SOME news paper covering MW:

CENTRO SOCIALE
EXPRESSEN
SVENSKA DAGBLADET
DAGENS NYHETER
SKÅNSKA DAGBLADET
CITY GUIDE SWEDEN
BLEKINGE LÄNS TIDNING
SYDÖSTRAN
SKÅNSKA DAGBLADET
SYDSVENSKAN
HÄLSNINGBORGS DAGBLAD
MUSIC AND VISION
DATORMAGAZIN 1990
PLUS MANY MORE..


Eddan in Bayreuth/Germany 2003.

5 hours from the work preformed for a week during Wagner festspiele, shown parallel with the Der ring des Nibelung.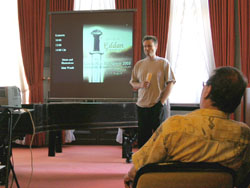 Mats Wendt talks about the work in the salon of Wahnfried, that was Richard Wagner's former home. Frans Liszt's piano in the background.
Some coverage from the appearance during the Wagner festspiele in Bayreuth Germany 2003


Swedish radio web site

Swedish symphonic composer besiege Bayreuth.. READ MORE


Sydsvenskan

Wagner event and a dream for swedish cybersymphonic READ MORE
*************
1996
The Marriage of heaven and hell at Malmö Konsthall. Sweden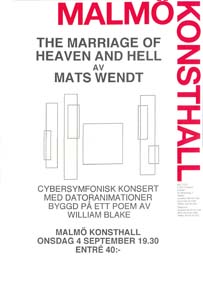 Poster for the event.
*************
1990
Three psychological portraits first preformed at European art festival. Rome / Italy.