Read more about the cybersymphonic art form and the cybersymphonic law here
Appearances in this countries:
SWEDEN
POLAND
LATHVIA
LITHUANIA
FINLAND
GERMANY
ITALY
DENMARK
ICELAND
ESTONIA

SOME Concerts and appearances:
BAYREUTH RICHARD WAGNER MUSEUM
MALMÖ KONSTHALL
MUSEUM OF SCIENCE STOCKHOLM
MUSEUM OF SCIENCE AND MARITIME MALMÖ
ATALANTE GOTHENBURG
STADSHALLEN LUND
NORDISHE KLANG GERMANY
EUROPEAN ART FESTIVAL ROME ITALY


COSMONOVA IMAX THEATRE STOCKHOLM
SWEDISH TELEVISION "MUSIK SPEGELN"
SWEDISH RADIO "MITT I MUSIKEN"
SWEDISH RADIO "KLINGAN"
RADIO STOCKHOLM
RADION BLEKINGE
BLEKINGE MUSEUM SWEDEN
MARIN MUSEUM SWEDEN
TV GERMANY, DUNKERSKULTURHUS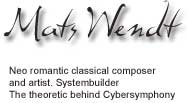 PRESS VOICES
DISCOGRAPHY
WORKS
THE CONTEMPORARY PERIOD
THE INVENTIVE PERIOD 1987-1993
THE MONUMENTAL PEROID, CYBERSYMPHONIC PERIOD 1993-2008

Mats Wendt is registered at STIM and IFPI.
All music, art and graphic is the intellectual property of Mats Wendt.

All rights reserved MATS WENDT © 1978-2008


Mats Wendt's 16 hours epic over the complete norse mythology listen for
free here
Some WORKS:
Eddan - the invincible sword of the elf-smith (1993-2008)
The complete Norse mythololgy set to music 16 hours 158 parts.
Europe a prophecy (1998)
Based on the poem by William Blake
WasteLands (1997)
Based on a poem by T.S Elliot
The Millennium Symphony (1997)
The Marriage of heaven and hell (1996)
Based on the poem by William Blake
The Omega point theory (1994)
The Insects Collection (1993-95)
A collection of 214 works for small settings quartets, trios and recitative.
Symphony for a dead world (1994)
Tales from lord of the rings 2 (1995)
Tales from lord of the rings 1 (1993)
Excalibur Piano Concerto nr 3 (1993)
Baltic ode (1990)
Voluspa
Urbana
Die grosse compressed crocodile symphony
Schizophrenic reaction type catatonia
Psychopath predominantly aggressive
Three Psychological portraits (1989)
The child and the soul of logic (1984)
String quartet in 13 parts
Cyborg Piano Concerto nr 1 (1981)
SOME news paper covering MW:

CENTRO SOCIALE
EXPRESSEN
SVENSKA DAGBLADET
DAGENS NYHETER
SKÅNSKA DAGBLADET
CITY GUIDE SWEDEN
BLEKINGE LÄNS TIDNING
SYDÖSTRAN
SKÅNSKA DAGBLADET
SYDSVENSKAN
HÄLSNINGBORGS DAGBLAD
MUSIC AND VISION
DATORMAGAZIN 1990
PLUS MANY MORE..