Read more about the cybersymphonic art form and the cybersymphonic law here
Appearances in this countries:
SWEDEN
POLAND
LATHVIA
LITHUANIA
FINLAND
GERMANY
ITALY
DENMARK
ICELAND
ESTONIA

SOME Concerts and appearances:
BAYREUTH RICHARD WAGNER MUSEUM
MALMÖ KONSTHALL
MUSEUM OF SCIENCE STOCKHOLM
MUSEUM OF SCIENCE AND MARITIME MALMÖ
ATALANTE GOTHENBURG
STADSHALLEN LUND
NORDISHE KLANG GERMANY
EUROPEAN ART FESTIVAL ROME ITALY


COSMONOVA IMAX THEATRE STOCKHOLM
SWEDISH TELEVISION "MUSIK SPEGELN"
SWEDISH RADIO "MITT I MUSIKEN"
SWEDISH RADIO "KLINGAN"
RADIO STOCKHOLM
RADION BLEKINGE
BLEKINGE MUSEUM SWEDEN
MARIN MUSEUM SWEDEN
TV GERMANY, DUNKERSKULTURHUS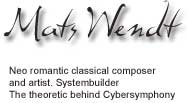 PRESS VOICES
DISCOGRAPHY
WORKS
THE CONTEMPORARY PERIOD 87 and back
THE INVENTIVE PERIOD 1987-1993
THE MONUMENTAL PEROID, CYBERSYMPHONIC PERIOD 1993-2008

Read more about the cybersymphonic art form and the cybersymphonic law here
Mats Wendt is registered at STIM and IFPI. All music, art and graphic is the intellectual property of Mats Wendt.

All rights reserved MATS WENDT © 1978-2008

Music by Mats Wendt
Available here

Mats Wendt's 16 hours epic over the complete norse mythology listen for
free here
SOME PRESS VOICES and independent reviews

"With this concert the Wagner museum at House Wahnfried is breaking new ground" Bayreuth Germany summer 2003 at the Wagner festsipele
*************

"Computer music's great romantic to museum of science" City guide sweden 2000
*************
"Sometimes one finds magic. Within a few seconds of the first sounds I knew I was in the world created by a real composer. Atmospheric but constructed with inner steel, Mats Wendt is clearly doing something special: music of mystery, enchantment and great beauty. Here is something extraordinary."

Music and Vision reviews the finished parts from Eddan 2002. By Gordon Rumson.
"wonderful music that one could easily see being played during the Lord of the Rings movie. Wendt's compositions evoke the power and vastness of the land of the North men like few I have ever heard".Ledstierna 2002
"Masterly one man orchestra" Blekinge läns tidning
Eddan finally finished for concert
"Mats Wendt to Cosmonova Imax theatre Stockholm. I will only write one line about cybersymphony and it's laws..." Expressen 99
Mats is the Beethoven of computer music" Datormagazin 1990
"Grand opening with 8000 watts" Sydöstran
"Wendt is internationally recognized" BLT
"Cybersymphony new art form" Skånska dagbladet 2001
*************
"A question to Mats Wendt. How did the Germans manage five hour mythology?" Dagens nyheter
*************
"Music genius aims for the Amiga" Datormagazin 90
*************
"It is completely awesome and awe-inspiring." Frank DeVault
*************
"I'm very thankful for the existence of beautiful music like Eddan. This will be a masterpiece for all times." Borgar Johnsen
*************
"You MUST hear this music! And read the tale. But listen while you read!" By Hollywood actor Tony Curran 2005
Starring in Beowulf (Iceland edition) Flight of the phoenix, League of extra ordinary gentlemen also appearing in Gladiator.
*************
"The sections I've heard contained immense strength and atmosphere, suggesting vast amounts of energy which, in context with the mythology, uses your imagination to conjure images of gods, giants and men undertaking epic maneuvering. It is simply fantastic in its beauty and mystery." Pawn 2005
*************